Hmm, not giving us much to work on here Andrius. As usual, make sure all applications which might be using ports 502 and 47808 are shut down. There can even be background services which take over these ports, Honeywell Niagara drivers in particular. Make sure you can ping the devices from the command line. Shut down any VPN's and extra network connections such as Wifi and virtual network ports which may be active on your PC. Show a few screen shots of the network setup and maybe I can spot something there.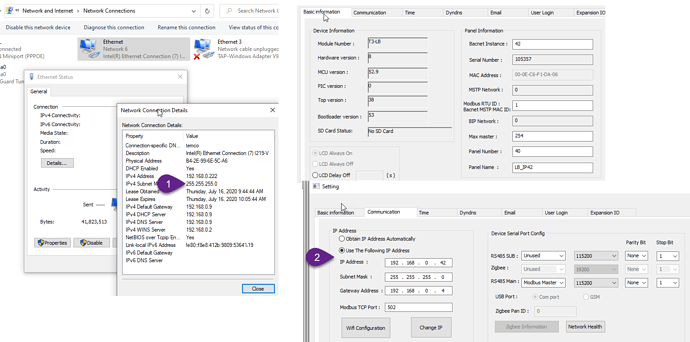 Issue is with Nov 3 ver. Oct 16 is OK.
I downgraded T3000 to Aug 14 ver. and now all is fine. Also Oct 16 ver is fine (I had it on other computer). Few notes (Nov 3 ver.):
then i scanned network all devices was discovered.
I have CO2 sensors connected to t3bb controller via RS485, and i could access co2 sensors but not controller.
I have two similar controllers, for some reason one is T3000_Default protocol and other Modbus TCP. Issue was with T3000_Default (not 100% sure about that)
Fandu will have a look into this with you.
Thank you very much for your feedback. The problem you described has been solved. Please update T3000 to Nov 12, 2020.14
The problem was caused by the latest version of T3000, I changed some code related to remote connections and port forwarding, the network socket was not handled properly. This has been fixed thanks to your feedback.