Post here about items specific to the Tstat10. Questions about the programmable controllers in general can go in the T3000 software topic or wherever appropriate.
The Tstat10 is basically a programmable controller inside a thermostat enclosure. All the features of our T3-BB series programmable controllers are supported. You can program your own sequence of operations, create alarms, network with other controllers, show floor plan and system graphics. This product is a great performer at an excellent price.
Tstat10 Programmable Thermostat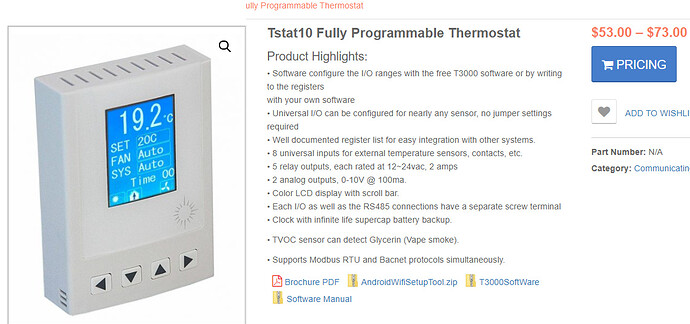 Note: The display is partially configurable, you can set the engneering units, the text for SET, FAN and SYS can be customized as can the AUTO, FAN, HEAT COOL and so on for the modes. We're working on adding custom messages and control over the icons from your programs over the coming weeks.