The T3 controllers have relay contacts rated at 1 amp or so which is called a 'pilot duty' only relay and is used for powering small dampers & valves only. When you need some real power to turn on a fan or pump you need to increase the switching power by wiring in an external relay. You may also need to isolate systems of different voltages, an external relay will come in handy for these cases.
Here is how you will wire the external relay to the T3 controller, this example uses a 24VAC MRB relay board but it applies to any sort of external relay. We start off at the transformer at Tab1, this powers both the T3 controller and it also will energize the external 24vac relay. The 24vac power is also wired to one side of the T3 relay at Tab2. When the on board relay fires power is switched out to the external relay at Tab3. The current flows through the external relay coil and on through the PCB traces of the MRB at Tab4 and finally back to the transformer again at Tab5.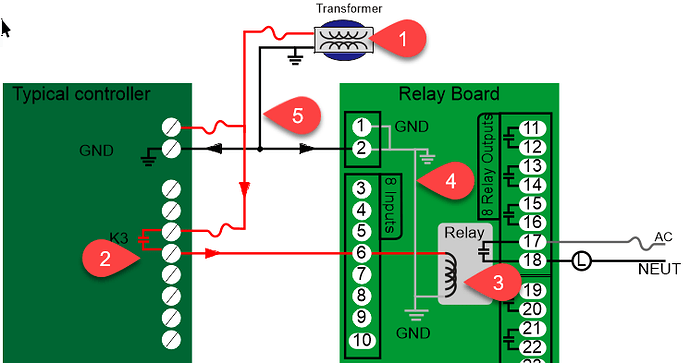 If you are wiring up several external loads this wiring strip will make your job a lot easier. It can be used to common up the connections on the T3 at Tab2.